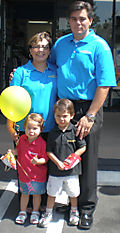 Today Altadenablog welcomes its first sponsor, EmbroidMe, located at 411 E. Huntington Drive, Suite 113, in Arcadia. EmbroidMe is owned and operated by Altadena residents Ruben Cardenas and Desiree Alvarado (with their children Daniella and Jarrod), and is now in its second year of operation making custom promotional items of all kinds, from coffee cups to company polo shirts to custom banners -- almost anything that can carry a company name or logo.
Altadenablog has been very impressed with its advanced computerized embroidery equipment, which can translate anything into an embroidered design (they've made the official Altadenablog fleece vest, cap, and polo shirts, for example). Businesses, sports teams, church groups ... any kind of organization can get customized items (Altadenablog was visiting once when the Arcadia police SWAT team needed names embroidered for their tactical vests!) They also have a great selection of giveaway promotional materials for your business.
Stop by EmbroidMe or call 254-0195 and see how they can help you (tell 'em you heard about it on
Altadenablog!). You can also visit their website.
P.S. Yes, advertising is now available on Altadena's community newsblog! Email us at altadenablog@gmail.com or call (626) 201-1023 to find out more!