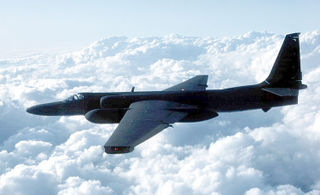 UPDATE, 6 PM: Still haven't found what you're looking for?  The U2 mystery has been solved, after the jump.

Chris Considine, who has given us aviation news before, sends us this message @ 11:30 AM
F15's, fighter escorts, have been circling our area of the San Gabriel Valley this morning.
Upon further observation they are circling in escort of the FAMOUS U2 SPYPLANE which is taking some type of recon photographically or electronically of our neighborhoods.

The famous jet is very very wide and the wing span is huge...it flies incredibly slowly...and
MAKES NO SOUNDS AT ALL...something those that have witnessed the B-2 New Years Day flyovers know only too well....silence...stealth... and loud interceptors should someone like to make something out of it...

As to WHY!?!? the military is doing this over our bedroom communities of La Canada, Altadena, Sierra Madre and Arcadia (that's all that I can see from my house) I have absolutely no idea....anyone else?


Not unless word's gone out about our exercising neighbor ...

UPDATE 2 PM: Chris give us more:
I talked with an Inspector from the FAA LA office about the U2...he was impressed that I had seen it, and jealous that he was "cooped up inside an office" and that we on the outside having all the fun, as he was very interested in seeing it.

He asked about the altitude and I conveyed that it was circling about 2500-3000 feet, completely silent, all of course legal by FAA standards, and that F15's were providing security. Basically when asked about what they were doing,he said he had no idea and the rule is that the military can do anything they like as long as it's by the rules...which of course it was.

It was a good day to photograph this area, that's all I can say.


Or, since we're on a U2 theme, it's a "Beautiful Day."
UPDATE, 6 PM: Reader Altaee comments that there was an airshow in Los Angeles today, and a quick google around showed that yes indeed there was -- which included a flyover by a U2!  Mystery solved!  Thank you, readers!
Boy!