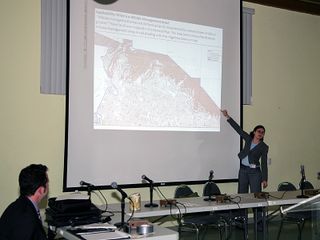 The community center was packed tonight as the county planning department gave a presentation on a proposed Hillside Ordinance for Altadena, an attempt to prevent "Glendalization" of the hillsides.
There are two components to the ordinance, according to Emma Howard of the county planning department: the addition of a hillside management plan to the Altadena community plan, laying out hillside-specific issues, goals, policies, and implementation measures; and new language for the Altadena Community Standards District, setting regulations for hillside ares.
The purpose of the ordinance is in large part to preserve the view of ridgelines in the foothills, so that an observer will still see the natural ridges, as opposed to the tops of buildings and housing breaking up the view of the hilltops.  As well, the ordinance will address development on steep terrain in the hills.
The goal, Howard said, is to preserve the views of the San Gabriel Mountains, minimize challenges to public safety and services presented by development of hillside areas, and balance the rights of property owners with the larger interests of the community.
One of the major changes called for by the proposed ordinance is that a conditional use permit is required if adding or subtracting for than 2,500 cubiic yards of fill (the average dump truck holds 10 cubic yards).  The present threshold is 100,000 cubic yards.
The ordinance also calls for a "significant ridgeline" provision, wherein a structure shall be located at least 50 vertical feet and 50 horizontal feet from a significant ridgeline, to avoid breaking the line of the hills with a structure.
It's still very early in the process; while the community members attending raised hands to approve going ahead with the draft, Howard said the county is still collecting public comments.
A map and the draft ordinance is available at this website; to make comments, call 213-974-6479 or email: ehoward@planning.lacounty.gov
Pictured: LA County Planning's Emma Howard points out the "red zone" of properties that will be affected by the ordinance.  Photo:  Bill Westphal.