State Sen. Carol Liu
was named "Legislator of the Year" by the Arc of California, the state's largest organization for people with intellectual and developmental disabilities.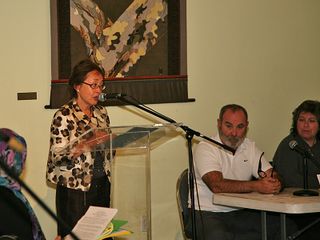 Liu, D- La Cañada Flintridge, received the honor from The Arc of California for her legislation and for serving as Chair of the Senate Human Services Committee. 
The Arc of California is a statewide organization committed to securing for all people with developmental disabilities, in partnership with their families, legal guardians or conservators, the opportunity to choose and realize their goals of where and how they live, learn, work, and play. 
"I am deeply honored to accept this award on behalf of our most vulnerable citizens and their families," Liu said. "The difficult budget challenges facing the state mean that we must pay careful attention to the people most in need of our assistance." 
Liu in 2009 authored SB 110, the Crime Victims with Disabilities Act. The Senate Human Services Committee, which Liu Chairs, has jurisdiction over child welfare services, foster care, adoption assistance, childcare, nutrition programs, developmental disability services, Adult Protective Services, In-home Supportive Services, and community care licensing.
(Photo: Liu at Tuesday's Altadena Town Council meeting, courtesy Bill Westphal)