Neighbors and others came out Sunday afternoon to honor those who turned a neglected triangle of dirt into Old Marengo Park, a pocket-sized demonstration California native garden in Altadena
The dirt triangle -- formed when Marengo was rerouted around 1965 -- was "a hot-looking eyesore," according to Michele Zack of Altadena Heritage. When she joined the town council in 2004, she didn't realize that the dirtpile belonged to Altadena, in  one of those places where the town boundary dipped south of  Woodbury Road.

"So a little committee I formed began to think about turning this waste ground into a park, a park where we could show off the beauty of California friendly, drought-tolerant plants," Zack said.  "We could add beauty to the neighborhood, and maybe even inspire people waiting for the bus, and drivers in the 24,000 car trips estimated to pass by this space every day."

The little committee teamed up with what was then the Altadena Foothills Conservancy (now Arroyos & Foothills Conservancy)  to raise money for the project.  Soon Pasadena Water and Power added a water connection, and the project could begin.
Zack said that soon many other individuals and organizations began to pitch in to create the park.  An Arroyos & Foothills Conservancy press release thanks the Los Angeles County Regional Park and Open Space District, the Metropolitan Water District, Foothill Municipal Water District, the Neighborhood Unitarian Universalist Church of Pasadena,  J. Harold Mitchell Co. of Altadena, Rain Bird Corporation, Mark Goldschmidt (who did the initial design), the Arroyo Seco Foundation, Supervisor Michael D. Antonovich, the Altadena Watershed Committeee, along with many individuals.
Among those attending were (left to right) Roberto and Susana Lopez and Patricia Guzman, neighbors of the park who've pitched in on the digging, weeding, and mulching.  In the right foreground is Tanganica Turner, aide to Assemblyman Anthony Portantino.
Other individuals recognized included Rick Carron, John Zoraster, Sue Dadd, Bev Huntsberger, Laura Bauer, and many others.
Another neighbor who helped out was the nearby Mountain View Cemetery.  According to Robert Staehle of the Arroyos & Foothills Conservancy, the cemetery was "good at digging holes in the ground," but initially had problems digging the deep round holes needed for cisterns -- the cemetery only had experience digging rectangular holes.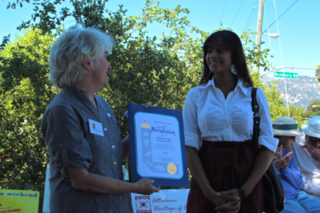 Steve Rudicel, co-chair of Altadena Heritage, said that Heritage named the park an "Altadena Heritage Area," or AHA!,  an honor that in practical terms does nothing, but does recognize some of the unique areas of Altadena.  Other AHAs include the Gregory Ain modernist Park Planned Homes on Highview, Norwic Village, Janes Village, Garfield Ave., and Country Club Park.
Pictured: Michele Zack receives a commendation for the park from Tanganica Turner of Assemblyman Portantino's office.