Temps predicted to be over 100 degrees again today, with some "monsoonal moisture" in the mix.  Stay cool today!  National Weather Service shouts: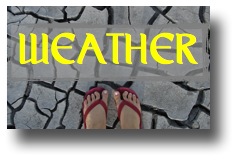 DAYTIME HIGH TEMPERATURES WILL CONTINUE TO EXCEED 100 DEGREES OVER MANY VALLEY AND LOWER MOUNTAIN LOCATIONS AS A DOMINANT HIGH  PRESSURE SYSTEM REMAINS OVER THE SOUTHWESTERN UNITED STATES. SUNDAY  HAS THE POTENTIAL TO BE THE HOTTEST DAY OVER SOUTHWESTERN CALIFORNIA AS THE RIDGE PEAKS IN INTENSITY. ADDITIONAL SUNSHINE WILL HELP TO BOOST TEMPERATURES AGAIN ON SATURDAY...WITH THE POTENTIAL FOR DANGEROUS HEAT INDEX VALUES ESPECIALLY OVER PORTIONS OF LOS ANGELES COUNTY.
HEAT INDEX IS A MEASURE OF HOW HOT IT REALLY FEELS.  THE HIGHEST HEAT INDEX VALUES ON SATURDAY ARE EXPECTED OVER THE LOS  ANGELES COUNTY VALLEYS AND MOUNTAINS... WHERE VALUES BETWEEN 100 AND  105 WILL BE POSSIBLE. SUCH HIGH HEAT INDEX VALUES MAKE IT DIFFICULT  TO REMAIN COOL... AND POSES A POTENTIALLY FATAL RISK FOR HEAT ILLNESS AND FATIGUE...ESPECIALLY FOR THE HOMELESS...ELDERLY...AND PEOPLE  WORKING OUTDOORS.
THE BEACHES WILL REMAIN A SOURCE OF RELIEF... WITH  HIGH TEMPERATURES MAINLY IN THE 70S... EXCEPT 60S ALONG THE CENTRAL COAST.
 SOME LINGERING MONSOONAL MOISTURE AND A WEAK DISTURBANCE MOVING INTO THE AREA WILL ALSO HELP TO BRING A SLIGHT CHANCE OF SHOWERS AND THUNDERSTORMS TONIGHT AND SATURDAY TO SAN LUIS OBISPO AND SANTA  BARBARA COUNTIES... AS WELL AS TO THE MOUNTAINS OF VENTURA AND LOS  ANGELES COUNTIES AND FOR THE ANTELOPE VALLEY. ANY THUNDERSTORMS THAT DEVELOP ON SATURDAY MAY BE CAPABLE OF PRODUCING BRIEF HEAVY  DOWNPOURS... GUSTY WINDS... SMALL HAIL AND DANGEROUS CLOUD-TO-GROUND LIGHTING.  
A SLIGHT CHANCE OF THUNDERSTORM WILL CONTINUE ON SUNDAY FOR THE LOS ANGELES AND VENTURA COUNTY MOUNTAINS AND ANTELOPE VALLEY. DRY  SOUTHWEST FLOW IS EXPECTED TO MOVE INTO THE AREA FOR MONDAY... WITH NO SHOWERS OR THUNDERSTORMS EXPECTED. DURING THIS PROLONGED HEAT EVENT...PEOPLE PLANNING OUTDOOR  ACTIVITIES SHOULD TAKE INTO CONSIDERATION THE HOT TEMPERATURES AND ADJUST THEIR ACTIVITIES ACCORDINGLY. NEVER LEAVE CHILDREN...THE  ELDERLY... OR PETS IN ENCLOSED AUTOMOBILES EVEN FOR A SHORT PERIOD  OF TIME. EVEN IF THE WINDOWS ARE PARTIALLY OPEN... TEMPERATURES CAN QUICKLY RISE TO LIFE-THREATENING LEVELS.