by Timothy Rutt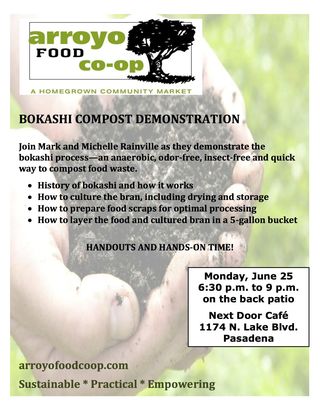 Altadenablog sponsor Arroyo Food Co-op will hold a workshop and demonstration on bokashi composting on Monday., June 25, at the Next Door Café, 1174 N. Lake Ave., 6:30 PM-9 PM.
Mark and Michelle Rainville will demonstrate the bokashi process, which can create an anaerobic, odor-free, insect free way to compost food waste in a container as small as five gallons.  Bokashi is also a way to compost heavier items like meat, fish and cheese.
The Co-op is also working toward reaching the 500 member milestone, and says in their recent email:  
If you join now, you are automatically entered into a drawing to get that coveted "500th Member" designation. Become a member today and this honor could be yours. And because we can't get to 500 without member 499, we will also be drawing for that spot and giving our 499th member a copy of "At Home Pasadena" as a thank you gift for doing your part to help us make our goal.
But wait! For all you long-time members investing a little at a time, never fear. We love and appreciate you too. And to prove it, if you renew your membership during the month of June, you will automatically be entered into a drawing for a gift certificate to Plate 38, a wonderful, local, and yummy restaurant. We know the way to our members' hearts is through their stomachs, so renew your membership today and let us feed you!
Click here to join or re-invest.