by Timothy Rutt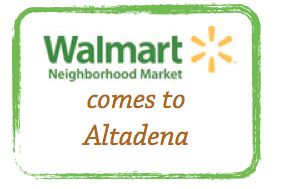 More than 1,100 people have applied for the 65 positions that will open in the Altadena Walmart Neighborhood Market, the firm announced today.
"We've been impressed with the quantity and quality of applicants so far," said Jennifer Gonzales, Altadena store manager, in a press release. "Many of the folks we've talked to are local and have a background in retail and grocery.  They've been pleasantly surprised to learn about our offerings and the opportunity for advancement at Walmart."  
The 28,000 square-foot Walmart Neighborhood Market is located at 2408 Lincoln Avenue at the corner of Lincoln Avenue and Figueroa Street. A temporary hiring center was opened across the street for potential employees to apply via computer kiosk, as well as a location for interviews.
The press release quotes Mark Harris, owner of Spin-Off Records on Lincoln Avenue as saying, "The hiring center has already brought foot traffic to the block; I can't wait to see what happens when the store opens ... This is a good thing for Altadena."

According to Walmart, the average wage for full-time hourly associates in California is about $12.89 per hour.  Walmart offers a variety of health care plans, including a plan that starts at $17 per pay period available to both full- and part-time associates, as well as  matching 401(k) contributions of up to 6 percent of pay, discounts on general merchandise for store associates, an Associate Stock Purchase Program, company-paid life insurance, and quarterly bonuses for both full- and part-time eligible associates based on the performance of their store.
Walmart is still accepting applications at the hiring center or online at http://careers.walmart.com,  The hiring center at 2369 Lincoln Avenue is open Monday through Friday, from 8 AM-5 PM.  Applicants can also find a list of positions still available at www.DenaJobs.org.
The store is set to open in the spring.