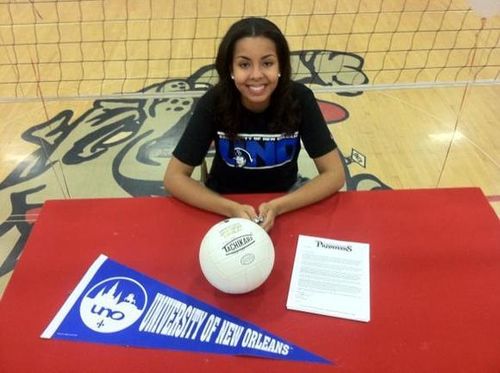 By Andrew J. Campa
Pasadena Sun
A historic season for the Pasadena High girls' volleyball team included one more achievement Wednesday afternoon.
Bulldogs senior middle blocker Bayley Neubauer joined with friends and family on her Pasadena High campus in signing a national letter of intent with the University of New Orleans, an independent Division I program.
"I'm excited to be signing and to be heading to New Orleans," said Neubauer, a 17-year-old Altadena resident. "I liked the coaching staff and the people and the area is a lot like SoCal. It's nice and warm and I'll enjoy that."
The 6-foot-4 Neubauer selected New Orleans over Coppin State, the University of Maryland Eastern Shore and Cal State Dominguez Hills after she took an official visit to the bayou on April 9.