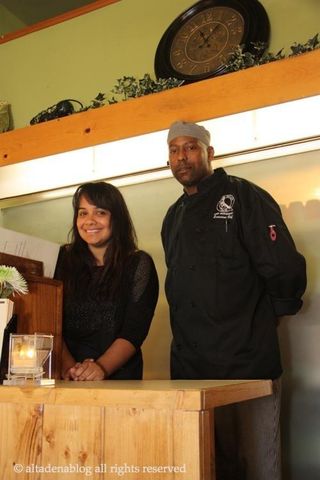 by Timothy Rutt
This week, a Lake Avenue restaurant re-opened with a new look, a new owner, and a (slightly) new name.
The Park Bench Grill -- formerly the Park Bench Deli -- opened Monday under the ownership of master chef Larry Quishenberry.  A long-time Altadena resident (and graduate of Eliot and John Muir High School), Quishenberry said didn't think he'd ever be in charge of his own restaurant.
A graduate of Le Cordon Bleu School of Culinary Arts in Pasadena, Quishenberry's ambition was to be an executive chef.  To that end, he's worked at the Mariott in Los Angeles, the Granville Café in Burbank, and spent eight years in the kitchen at Brookside Park golf course, where he made some pretty high-end grub.
But then he knew the owner of the Park Bench Deli, who wanted to retire after 21 years and persuaded him to buy the restaurant.  Quishenberry said that he wanted to honor the old restaurant's tradition:  "it's been a deli for a long time, and they have a lot of established customers," he said -- but also re-orient it slightly, turning it into more of a sit-down restaurant with entrees, pastas, and hot sandwiches.
Why did he decide to take the plunge with the Park Bench Grill? "I think Lake Avenue is kind of primed for small businesses," Quishenberry said.  "It'd be nice to have a couple more small restaurants over here."
The Park Bench Grill, 2470 N. Lake Avenue, is open Mon-Sat. from 11 AM-7 PM, closed Sundays.