by Laura Berthold Monteros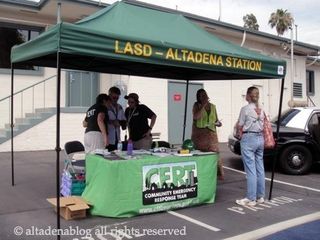 When the deputies at the Altadena Sheriff's Station invite you in, they make sure you have plenty of hamburgers and hot dogs grilled up by Deputy Greg Gabriel, lots of shiny vehicles for the kids to look at, and horses who like to be petted.  
At Sunday afternoon's open house, there were the usual suspects from Altadena Mountain Rescue Team with their pulleys and ropes and clamps, firefighters from Altadena's Fire Station #11 lifting kids onto the  fire truck, EMT Andrew Hung from Schaefer Ambulance Service showing folks the inside of the ambulance, and the Altadena Mounted Posse with their friendly steeds.
There was something new and exciting, too.  Capt. John Benedict took us on a tour of the station, which was renovated about a year-and-a-half ago, and shared the plans to expand into space on the eastern side of the building that is currently used for storage and an office or two.  A 911 center will be added so that Altadena calls will come directly to Altadena, and not to Crescenta Valley Station, the jail will be brought up to current standards and reopened for use, and a Disaster Control Systems room will be brought online.  
When Capt. Benedict took over the station last year, he moved his office from the old space on the east side to a room more accessible to the public and hung the picture from the cover of Michele Zack's Altadena: Between Wilderness and City on the wall.  The old captain's office will be opened up into closet space and become a community center and when needed, an Emergency Operations Center with several televisions for monitoring activity.  
The guests at the event were as diverse as Altadena itself.  When asked how it is that such a diverse community gets along so well with the deputies, he responded, "We do a good job of outreach."
Two important volunteer groups assist the Altadena Sheriff's Station in their work: Altadena Mountain Rescue Team and Altadena Mounted Posse.
It might be tempting to assume that mountain rescue is a young person's game, but AMRT member Chuck Ballard has put in 48 years with the team.  Becoming a member of a rescue team begins with knots, he said.  Once a volunteer can demonstrate the eight or 10 knots necessary, he can go along on rescues as the third man.  Eventually, the volunteer can start climbing.
"It takes at least two or three years to get off probation," Ballard said.  "For most people, it takes more."  Each volunteer has to get certified as an EMT and attend the Sheriff's Department Reserve Academy, all while holding down a regular, paying job.  
Mounted Posse members patrol trails along the San Gabriel Mountains from Olive View Hospital to Eaton Canyon, and attend events such as parades and the summer concerts in Farnsworth Park.  
Alyce Schwartz, who came with her mare Poca Peppy Chex In, said she started volunteering 15 years ago when a friend told her about the training she would receive.  "I can give something back to the community by doing something that appeals to me," she said.  The patrols are done as members have time, and they always ride in groups of two or more and let the Sheriff know where they are.  They are eyes on the community, and call in any activity to the Sheriff's Department for the deputies to handle.
As for Poca Peppy Chex In—she's a registered Quarter Horse whose bloodline includes horses named Poco Bueno, Peppy Waldo, and Chex In the Bank.  And you thought Thoroughbreds had strange names.
 1.  Even the horses get a badge.
2. Memorial for Altadena Deputies David Stout Larimer and Charlene Rottler, who died from injuries sustained in the line of duty.
3. Firefighters David Laub, Chris Demetropolis, and Patrick Breen.  The black bands are in memory of the 19 firefighters of the Prescott Granite Mountain Hotshots were were killed in the Yarnell wildfire.
4. Members of the Altadena Mountain Rescue Team train for years to be on the squad.
5. Andrew Hung, EMT with Schaefer Ambulance Service, opened up the vehicle for visitors.
6. Chuck Ballard is a 48 year veteran of the mountain rescue team.