by Timothy Rutt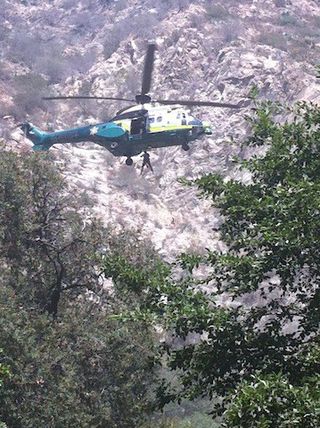 A 17-year-old male hiker was airlifted out of Eaton Canyon Saturday afternoon after suffering head trauma at the end of a 30 foot fall near the first waterfall.
The Altadena Sheriff's Station reports that the call came in about 3 PM about the injured hiker.  Community correspondent Andrea Calderwood of Pasadena shared pictures of the rescue and gives her own on-the-scene report:
My boyfriend and I were hiking up and spotted the man about a hundred yards before the waterfall. His friends were with him, he was partially bent backwards over a rock, and his arms and chest were covered.  His friends told us they had help on the way and we moved on to avoid blocking the path (this is a very popular local hike for families).
About five minutes later we sat down at the pool of the waterfall, on the right hand side, and heard a helicopter approaching.  It approached very quickly, and very low, and gave no warning bell or siren to warn the 50 or so people (including families with small children, and elderly) that they were approaching the popular destination. Suddenly there were rocks, branches, and debris flying very quickly, hitting heads, and one man whose back was gashed open.  The dust made it difficult to breath and see.  We ran over the rocks to get to cover and waited out the hovering helicopter. The injuries of those at the water seemed to be minor, but it's possible other hikers were injured from the wind and flying branches. 
A few minutes later the helicopter returned, and lowered down a rescue worker to assist.  It circled back a few times, making it dangerous to begin the trek back to the road, so the crowd waited out the rescue.  It then came back and hoisted up the forestry service worker, and then later the stretcher with the injured hiker. These are what the photos show.
Upon reaching the exit at Crescent Drive, there were four fire trucks, and a new ambulance was just arriving, although it was 30 minutes after the hiker was lifted out.  It is likely that it was for someone else. 
The hiker was airlifted to Huntington Memorial Hospital.