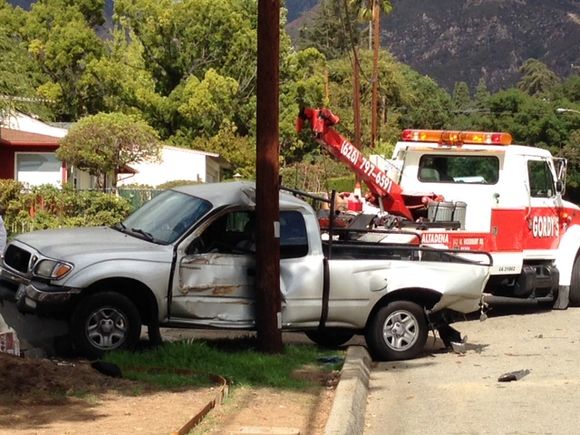 A towtruck is positioned to tow a truck away from a power pole on the 2600 block of Marengo Monday afternoon. Another truck, not pictured, has a bashed up front end, and CHP is on scene.
UPDATE: Apparently community correspondent Tim Murphy saw the whole thing:
I spotted this accident scene at 2639 North Marengo today at 1:25 PM. The driver of the Toyota Tacoma truck was taken away by paramedics. I didn't witness the accident but it appeared that the driver of the Conejo Crest Landscape Maintenance truck rear-ended the Toyota. The home owners lost a section of a freshly built masonry wall. When I left, the driver of the Conejo truck was taking pictures of the accident with his iPhone. If in fact he was at fault, the photos should be tilted....."oops, sorry boss!"