by Timothy Rutt
Lunch hour for the young men at John Muir High School is like lunch hour everywhere: eat, hang out, play basketball, maybe try to make time with the ladies.
But every lunch hour, a few of them head for a bungalow classroom on the school grounds because they're hungry for something more.
Mentoring and Partnership for Youth Development (MPYD) is heading into its 13th year of showing some young men a better way.  In "Lunch with the Future," the young men are  greeted with a hot lunch and a short talk by an accomplished member of the community to instill in them the attitudes needed to succeed.  Speakers can include government officials, successful entrepreneurs, elected officials, members of civic groups, and others who volunteer to spend a half hour with the students.
On a recent afternoon, the guest speaker was Calvin O'Neal.  O'Neal was an All-American, co-captain of the University of Michigan team in 1976 (lost in the Rose Bowl to USC), and went on to play with the Baltimore Colts during the 1978 season.  He is currently director of On and Off the Field Mentoring, Inc., an enrichment program in his hometown of Shreveport, Louisiana.  
O'Neal was in town, he said, in part to see how a successful  program like MPYD runs, so he can apply its lessons to his own program.
The lunch bell sounds, and the students file in.  There's a list, prominently posted, of how they are expected to dress and behave.  
According to Tecumseh Shackelford, MPYD president and chairman, there are currently about 40 young men in the program, ages 14-18.  Starting from a group of  volunteers -- community leaders who "walked the halls," in Shackelford's words -- the program is now funded and staffed, and offers counseling, tutoring, help on college and career placement, and activities including a summer camp.  The goal is to use mentoring to steer young men away from destructive paths and into productive employment and healthy leadership in the community.
It's a program that works through every part of the student's life, Shackelford said -- parental involvement is required.
The "Lunch with the Future" program is a key part of MPYD's mentoring program.   According to MPYD's website, "Lunch with the Future will encourage students to aspire for productive employment in notable jobs and/or careers, by realizing the need to set achievable goals and becoming proactive in preparing to reach those goals."
The students do the usual joshing and teasing that's part of young men's relationships, but never get out of hand.  They call the adults "Sir" and eagerly tuck into the El Pollo Loco food that's been set out for them.  Then -- after a little urging -- they quietly listen to O'Neal.
The tall and still muscular former football player give a talk he's given many times to similar groups, reciting his own history and emphasizing the importance of setting goals and creating accomplishments to build on.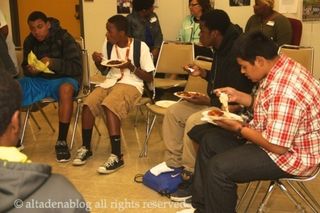 The young men give him a respectful listen, and participate in an exercise that involves "walking the plank" -- the same board on the floor, and then suspended on two chairs above the ground.  It requires the same actions, it's just that the perspective is different, O'Neal says.
The bell rings -- lunch is over.  The young men linger a bit, but soon they're off to class.
It's a small thing, but these accumulated talks add up, Shackelford says: "We want to have something that we make sure sticks in their minds."