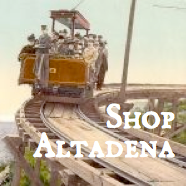 Time for our monthly salute to Altadenablog's sponsor team.  Since the holidays are coming up, many of them are offering great things for your gift list, so check 'em out!:
Friends of the Altadena Library
Judy Rubin Architectural & Previews Specialist
Linda Seyffert & Associates/Podley Properties
Meredith McKenzie for Altadena Library Board
Pasadena Waldorf School Elves' Faire
Want to get the word on your business out to Altadena residents?  Now we offer two ways:
Join the sponsor team:  As  you can see, some of the best businessess in Altadena advertise here -- that means you should, too!  Contact us at 626-201-1023 or email altadenablog@gmail.com and we can get you started. 
Our promise:  your ad, on every page, every day, every time.  Nobody else offers that. 
Shop Altadena on Facebook: You don't have to be a member of the sponsor team to put a message on our Facebook page, Shop Altadena. If you have a business catering to the Altadena/Pasadena/LCF crowd, tell everyone what you're offering right here, at absolutely no charge!
Please thank our local business sponsors by patronizing them -- and tell them you read about it on Altadenablog!