by TImothy Rutt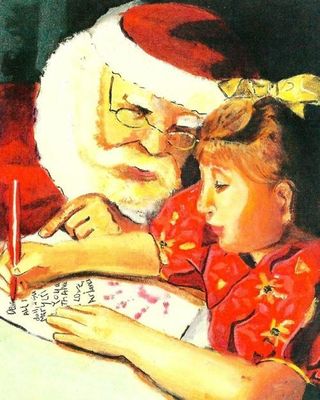 Webster's Fine Stationers, 2450 N. Lake Avenue, is displaying the works of two young -- and we mean under 18 -- award-winning artists this month.
Ariana and Alexia Saigh have already won awards for their painting, even though they're not even in high school.  Ariana attends the Gooden School in Sierra Madre and Alexia is a student at St. Mark's Episcopal School in Altadena.  Alexia won LA County Fair's Art Award last year for her oil painting "California's Best", a still life of fruits, flowers, and vegetables.  In 2009, Alexia won the sweepstakes award for her acrylic painting "Tropical Parrot".  The following year, Ariana Saigh won the sweepstakes award in 2010 for her painting "Bridge To Beauty."  This year Alexia won the sweepstakes award for her painting "Reading Brings Imagination To Life" -- the original is hanging in the Altadena Main Library and and a high-quality print is hanging at Webster's.
The painting of Ariana with "Santa Jack"  was done when she was 11. Alexia's painting of the Altadena Country Club was selected by jury for their 2013-14 California Artist Club exhibition.  
Want to take some of this art home with you?  Webster's is selling greeting cards featuring the sisters' art for $3.99.