from Pauli Dutton, Principal Librarian
Altadena Library District 
On Saturday, December 14, at 10 PM., Barbara J. Pearson, Director of the Altadena Library District for the previous nine years, passed away.  She had been at Pomona Valley Hospital recuperating from pneumonia.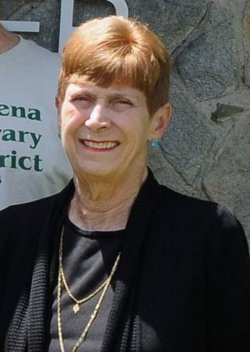 While at Altadena Library, Ms. Pearson updated its integrated library system, modernized the interior of both main and branch libraries, and renovated the infrastructure with new wiring to expand the library's public computers from ten to 40. She began the library's Art on Millionaire's Row annual arts and crafts fair and salon. She had also worked hard on planning and raising funds to update the main library facility to bring it into ADA compliancy but passed before this goal could come to fruition.
Previous to her position at Altadena Ms. Pearson also served as chief librarian for the city of Burbank Public Library.  While there, she oversaw the construction of Buena Vista Library Branch which was labeled a high-tech yet homey example of excellent library design and quickly became a popular destination for its community and librarians throughout California. Before this time she served as the library director for the city of El Segundo for ten years where she was credited with leading a library renovation and expansion project.
A graduate of UC Santa Barbara with a master's in library science from UCLA, Mrs. Pearson worked at Covina Public Library, Honnold Mudd Library for the Claremont Colleges and Ontario City Library. She also served as a network administrator for the Online Computer Library Center's Pacific Division, where she handled public library contracts and coordinated scheduling for telecommunications hook-ups.
In honor of Ms. Pearson, the Board of Library Trustees voted to name the library's meeting hall, the Barbara J. Pearson Community Room. Both the Altadena Main and Branch Libraries will be closed on Friday, December 27, to enable staff to attend her memorial service which will be held at 2:00 PM that day at Our Lady of the Assumption, 435 N. Berkeley Avenue, Claremont, CA 91711. Ms. Pearson's survivors include a daughter, two sisters, and a grandson. Condolences may be sent to her daughter Kathleen Flynn, in care of Altadena Main Library, 600 East Mariposa Street, Altadena, CA 91001