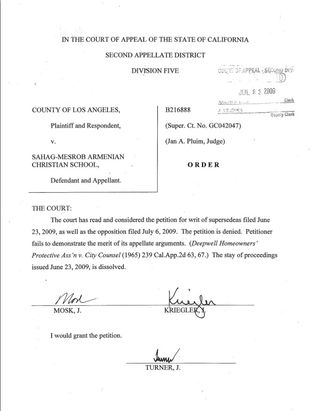 Part of our catching-up process: Sahag-Mesrob Armenian Christian School's Palm St. campus will remain closed, pending the outcome of the court case on their conditional use permit in September.  The court of appeals ruled July 23 to keep the school closed, overruling a previous court decision in June.
Sahag-Mesrob opened its 200-student Palm St. campus in Sept. 2008, without obtaining the required conditional use permits from the county planning department. Following protests from homeowners in the quiet residential neighborhood, the school, county planning, and later county counsel and the courts have been wrangling over the school's status ever since. 
UPDATE 12 PM: An alert reader points us to the school's website, which says the high school will now be located at 1530 E. Elizabeth in Pasadena, and says:
We are looking forward to new school year 2009-2010. The School will celebrate its 30th Anniversary. Nursery to 8th grade students will attend Maiden Lane Campus, and 9th to 12th grade students will be in a leased facility at William Carey University Campus.