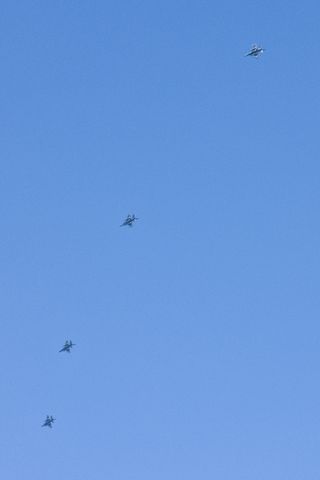 ... overhead about 6 PM.  No details, but we're sure some aviation buffs will fill us in!
UPDATE: Chris Considine, the Skywatcher, comes thru again, with pictures!:
Most Altadenans heard that special low throaty rumble this afternoon from 5:15pm to the finale at 6 PM. It was a frustrating search for the multiple jets that were circling and circling around and around from waydown below us to up and over the mountains several times. Then finally, as the 6 O'clock hour arrived, the group of aircraft came in lower over Altadena to finally allow a visual on the four F-16's in a line. As this was

the first home game of the Dodger's for this special July 4th weekend I was ready to take a shot when they lined up, banked back to the West, got in line, and turned on the afterburners for the run over the stadium at  the cue point for the National Anthem before the 6:10 start.

 

As a side note, I also spotted a parasail over the Eaton Canyon area just before the jets appeared. Not sure where they are taking off from or landing. I did see another about 2 months ago in the same vicinity, and circling around Henniger Flats.