The B2 stealth bomber flies over Altadena for opening day this afternoon.  Photo by Steve Durham
by Chris Considine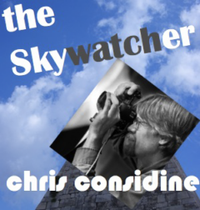 Are we lucky or what? Our FAA open air zone above Altadena was once again buzzed by the most technologically advanced aircraft in the world just before 5 PM today.
I'm sure most of you saw the incredible aircraft as it circled at least three times over our community. It was timing its flyover at Dodger Stadium to coincide with Placido Domingo's singing the National Anthem for the opening day of the  baseball season at Dodger Stadium.
Who could ask for anything more than those very low passes which allowed most Altadenans to get out in their yards for a good gander at this most impressive aircraft. Its remarkable shape and size are really "out of this world" compared to all other military aircraft around the world.
I guess we must wonder about the cost of such displays, as this plane flies all the way from White Air Force Base in Missouri to fly over our little piece of 90 degree paradise. That's a long way and a lot of gas. I won't bother with those stats. I just consider us very lucky to be the viewers of this special plane with a very dedicated crew that buzzed us this afternoon on its way to Chavez Ravine.