By Timothy Rutt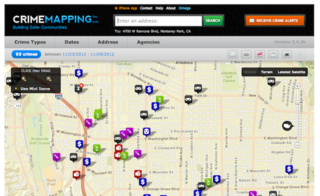 Altadenablog is proud to announce that it has added CrimeMapping.com's local crime activity map to our website as we strive to better serve the residents of Altadena.
CrimeMapping.com has been developed by The Omega Group to help law enforcement agencies throughout North America provide the public with valuable information about recent crime activity in their neighborhood.
The Omega Group says: "We are dedicated to enriching the quality of life in all communities by providing solutions for law enforcement, public safety and education agencies. We are the industry-leading developer of innovative Geographic Information Systems software designed to assist public agencies with their daily data driven decisions. Our diverse solution offering distinguishes us in our field and includes demographic analysis, enrollment forecasting, crime analysis, investigative intelligence, COMPSTAT reporting, tactical operations, monitoring critical infrastructure as well as situational awareness."
The Omega Group says that the goal of CrimeMapping.com is "to assist police departments in reducing crime through a better-informed citizenry. Creating more self-reliance among community members is a great benefit to community oriented policing efforts everywhere and has been proven effective in combating crime."
How does it work?  Crime data is extracted from each participating department's record system (in our local case, the Los Angeles County Sheriff and Pasadena Police Departments) to ensure that the information is the most current available.  CrimeMapping.com's data is always verified for accuracy and addresses are generated by block to ensure privacy.
The Omega Group has been working with law enforcement agencies throughout North America since 1992. Hundreds of police and sheriff's departments are currently using one of their desktop or Web-based CrimeView solutions for their intelligence led policing needs. CrimeMapping.com represents our nationwide public service. We understand the sensitive nature of crime data and work hard to maintain integrity as well as security with every solution we provide.
The Altadena Crime Map will be available on its own page.  As presented, it will map out the previous week's worth of reported crimes, but readers can also go in and make their own changes, i.e. date range and types of crime.  There are also smartphone apps available.