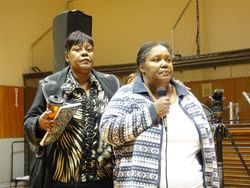 by Laura Bethold Monteros
About 75 people turned out for a community meeting at Robinson Park on Feb. 17 called by the Pasadena Police Department to address three recent non-fatal shootings in Pasadena and the murder of Brandon Jackson, the teenager killed in Altadena in a drive-by last Saturday night.
Pictured: Sheri Costley and Cyntha Brown
Jackson's aunts, Sheri Costley and Cynthia Brown, spoke eloquently about their nephew and the losses in their family. 
Jackson, a junior at John Muir High School, was shot on the 300 block of W. Palm St. on Feb. 12 at about 10:40 p.m. He had just left a party in the neighborhood when a car pulled up and called him over.  He went, and someone in the car opened fire.  Friends transported Jackson to the hospital, where he was pronounced dead.
Pasadena Police Cmdr. John Perez, who led the meeting, Pasadena Police Chief Phillip Sanchez, and other PPD officers took the lion's share of the time, but most of the questions were regarding the Jackson shooting.  At one point, a man named Carlos asked, "Can we hear from the Altadena Sheriff's Department?"
PIctured: Pasadena Police Chief Phillip L. Sanchez
Perhaps the most arresting moment of the meeting was when a woman stood up and said, "My name is Cynthia Brown, and Brandon was my nephew."  Brandon had been on his way to her house when he was shot.  
"Every day, Brandon would get up and say, 'Good morning, God,'" Brown said. She told of his being promoted from middle school with a 4.0 average, and how his life became a constant struggle since his mother passed away in 2007.  "He was still struggling with that, among other issues," she said.
Brown addressed Muir principal Sheryl Orange's comments in the Pasadena Star-News on Thursday, in which Orange said Jackson "had so much turmoil on the inside" and that he was trying to decide whether or not to join a gang.  In the article, Orange also affirmed that Jackson was turning his life around and raising his grades.
Continue reading "Crowd wonders why Pasadena called meeting for Altadena murder" »