Pictured: Rescue workers gather at the gate at Pinecrest this morning as two hikers have fallen near Eaton Falls.
by Timothy Rutt
As we write, there are two rescues going on simultaneously in Eaton Canyon and the Angeles National Forest.
According to Sgt. Gary Ogurek of the Crescenta Valley Sheriff's Station, a male and female had fallen off a cliff near Eaton Falls this morning.  The man died but the woman was rescued, Ogurek said.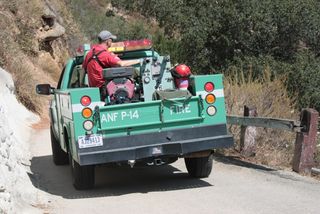 Meanwhile, near Gould Mesa, a horse and rider have fallen about 6-8 feet according to reports, and rescue is presently underway.
 Pictured: Forest Service rescue vehicle goes down the trail at Pinecrest Gate.