Chapter One: A Chicago millionaire's fireproof mansion.  Chapter Two: a celebrity author's monument to himself.  Today, the Zane Grey Estate is writing a new chapter: sustainable urban farm.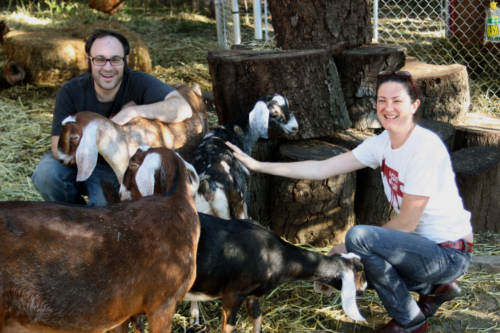 Pictured: Steve Rudicel, Gloria Putnam, and the goats of the Zane Grey Estate.

Steve Rudicel and his fiancee, Gloria Putnam, are in their back yard showing off their pride and joy: their herd of goats, and the new flock of chickens.  Chickens are understandable -- who doesn't like fresh eggs, altho' their flock is still too young to produce yet -- but goats? 

"I like fresh milk," Gloria explained.  She developed a taste for raw cow milk, but "then I started buying goat milk, and that was delicious, too."  Then the woman who was selling her the goat milk told her she had to get rid of two goats -- and that's where it started.

So the Mariposa Creamery -- their home goat milk and cheese enterprise -- was born.  Just north of the goat enclosure is the home.  And it's no mere hobby farmer's house -- it's a vast, three-story building with a library in the east wing that could comfortably serve a small community.  And it's on the National Register of Historic Places, as the Zane Grey Estate at 396 Mariposa.

Today, Steve and Gloria are writing a new chapter in the history of one of the most famous homes in Altadena: sustainable urban farm.


Besides the livestock in the back yard, Steve and Glora got rid of the lawn and are using the space to plant fruit trees and raised-bed gardens.  They've installed a photovoltaic solar array on the third, top floor -- Zane Grey's original study -- to provide some power.  They're using the roof of their solarium as an experimental test bed for a firm that provides "living cover" for roofs, with plants and a lightweight soil mix, seeing what will thrive in the Southern California climate.
And they've opened the home to the community: the second
Altadena Urban Farmer's Market
will take place at the estate today, from 1-4 PM.  It's been the location of fundraisers for such organizations at the Pasadena Historical Society, and the AIDS Service Center.  And they've opened the east wing of the estate -- where Zane Grey's library and later study were located -- for twice-weekly yoga.
It's an outcome that even the imaginative Grey could probably not have conceived of.
Story 1: The Woodwards: a fireproof house
The first story of the home actually begins almost three years before it was built. 
Arthur Woodward
was a Chicago millionaire inventor, who had retired as president of International Register Co.  According to
Michele Zack's
Altadena: Between Wilderness and City,
Woodward was in failing health and, as many wealthy but infirm people did, pulled up stakes with his wife and two children and moved to California.  In 1906, he commissioned architects
Myron Hunt
and
Elmer Grey
(no relation to Zane) to build a special mansion.
Woodward's wife,
Edith,
almost died in the Dec. 30, 1903 fire in the Iroquois Theater in Chicago, which took at least 602 lives.  The Woodwards, understandably,  were  extremely afraid of fire.  Hunt and Grey's commission was to build a solid concrete, fireproof structure for the family to live in safely on what is now the corner of Mariposa and Marengo. 
The Woodwards picked some thoroughbred architects.  Hunt's work with and without Grey included the Rose Bowl, Pasadena Library, many Caltech and Occidental College buildings, and the Huntington mansion that is now part of the Huntington Library and Gardens.  On his own, Grey created the Pasadena Playhouse and the Beverly Hills Hotel.  Together, they created a Missionesque structure with an incombustable tin roof for the Woodward family.  Construction was finished in 1908, and  the family lived there until 1920, when Arthur returned to Chicago after spending the years traveling between that city and Altadena on business. 
Story 2: The Greys: writer of the purple page
The Woodwards sold the house to
Zane Grey.
  A popular writer of westerns and adventure tales,  Grey sold his first novel in 1910, and his 1912
Riders of the Purple Sage
catapulted him to millionaire status.  The family moved from Pennsylvania to California in 1918, and found their dream home in the Woodward's concrete mansion, which they bought in 1920.
Pictured: one of Zane Grey's trunks, now in the yoga room.
Grey would write, and his wife Lina (known as Dolly) handled the business end, negotiating contracts and making the deals.  (Zack says that she became president of the Altadena National Bank in 1932).  Grey would spend months away from the family, sometimes fishing, sometimes philandering, leaving Dolly in charge of the house and the three children.

Despite his time away, his outsize personality has left its enduring mark on the house.  It is his name that has stuck to the mansion, but he is also responsible for the construction of the east wing.  That wing, which held Grey's study, was built by Dolly in 1928 when Grey was on an extended fishing trip.  (Steve Rudicel says legend has it that Grey scrawled out the perimeters of the wing on the ground with a stick before leaving Dolly on her own for about a year to build it).  The huge, sunlit study includes American Indian touches and multiple instances of the eagle that was Grey's personal logo.  Today, it serves as the office for Gloria, who works largely at home in engineering and sales for Eastman Kodak.

As the years went on, Grey spent less time in the home and with the family, but he was at the mansion, practicing his flycasting, when he died of heart failure in 1939.

Story 3: The Rudicels: a blue-collar mansion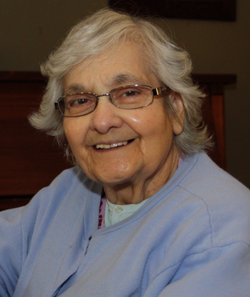 Pictured: Rosejane Rudicel today
Charles and Rosejane Rudicel and their son Steve were living in a small two-bedroom house in Pasadena in the early 1970's.  The family had moved to Pasadena from Ohio, and had lived in a home on El Molino but had to move out because of 710 freeway construction that never happened.  Charles was a contractor, and Rosejane says that "we just wanted a house we could fix up a little."

And one day, she says, their real estate agent called, saying "I have a castle for you."

Zane's son Romer Grey, an unsuccessful writer, was living in the house at the time, and was looking to sell it.  Formerly sitting on five acres, the original property had been subdivided multiple times and sold for houses, leaving the mansion and a substantial yard. 

As Rosejane remembers it, young Steve had pitched more than one fit when they were looking at houses to buy: "He wouldn't go in to see them."  But when they went into the estate -- where Rosejane says "the odor was musty, it was like a dungeon" -- and Steve said, "Oh, Mother, isn't this beautiful?"

It was a different era for housing, Steve says; "My dad was a contractor and really wanted the project.  It was a market where people weren't willing to invest the time and energy ... nobody wanted old houses, really.  Nobody wanted to live in this neck of the woods.  All those things contributed to it, and it was also being foreclosed on.  Romer had really run through all his money, which accounted for the radical subdivision."  These circumstances "would never happen today," Steve said.

Which is how the blue-collar Rudicel family acquired a mansion to live in.  Steve said that, at the time, "All the mansions on Millionaire's Row (along Mariposa) were owned by people who were plainly not millionaires."

"The house was in such poor condition that the first evening we spent outdoors on the front lawn to sleep," Rosejane said.  "We camped out on the first night."

Always a new project
After the Rudicels moved in, the house always presented a new construction project -- one of the first was removing a mock fig vine that had overgrown the house, blocking the windows and threatening to pull the structure down.  It weighed 60 tons.  The Greys had replaced the tin roof on the original structure with mission-style tiles to match the east wing, but the roof wasn't pitched properly for tiles, so water was always leaking in somewhere. 


Growing up in the mansion offered a different perspective, Steve says.  "The house leaked, most of my childhood."  He says he "figured it was normal to have that much room -- and rooms you couldn't get into."

Pictured: the fireplace in Zane Grey's study in the east wing
But the improvement projects would be slow. Gloria said, "[Steve's] father would never hire any help.  Of course, he was a contractor.  Of course, he had a normal day job, and he only had time to work on this place on the weekends."

In that pre-preservation era, as many old houses were being torn down, Rosejane would haunt the property sales to pick up furniture.  "I put furniture in every room of the house, sparse as it may have been, because ... it gave me a better feeling of living here."

And living in a historic structure, they had to get used to Zane Grey fans coming down the driveway unannounced.  Some of them brought memorabilia, some of which the Rudicels kept and some of which which was added to some of the things -- like 15,000 books -- that the Greys left behind and Rudicels wanted to get rid of.  Rosejane such much of the Grey's detritus "wasn't worth two cents."

"It was an adjustment," Steve says.  Gloria says they still get people wandering on the property: "A lot of people don't know it's a private residence."


Finding home
Growing up the in the house, Steve said he had no interest in putting his stamp on it.  He grew up, went off to college and graduate school, and had his own life away, he said, although he would come back for some summers.  His dad died, Rosejane moved out, and tenants were renting the structure.  At one point, the house was going to be a bed and breakfast, but that didn't work out.

In the early 2000's, Steve and Gloria were living in Pomona, close to his work --  Steve teaches classes at Cal Poly Pomona, and owns The Press Restaurant in Claremont. He hadn't been living at the estate for over 20 years.  But after severe rains, the house developed major leaks, leaving standing water on the floors that the tenants weren't interested in doing much about.  Because of the constant leak problems, Steve and Gloria began showing up a couple of times a week to maintain the property, and realized "It was not going to change unless there was someone [living here] with an ownership interest."  They finally decided to go ahead and move in, and care for Rosejane, who would live with them.  It's been their home for six years.

"I thought I was going to be so lonely and isolated here," Gloria said, but it didn't turn out that way.  "It felt like home pretty quickly," Steve said. Gloria says she loved the design of the house.  "It's pleasant in its proportions, there's nothing fussy about it." 

As finances permitted, they tackled some big projects, mostly waterproofing, which they think they've finally conquered.  And along the way, they've began "greening" the house.
Green mansion
One of the first steps was mulching over the front lawn:  "We did our best to kill the lawn," Gloria said.  "We've been replacing it with edibles."  Used barrels from a vintner are lined up, waiting to be turned into rain catchments for a future project.  The raised gardens are covered with netting to keep away the chickens. 

They're not self-sufficient in all things -- they like meat -- but Gloria says that the gardens, trees, and goats provide a lot of what they eat.  "Our interest in food has really driven a lot of decisions," Gloria said.

She's also been forced by circumstances to be a small livestock veterinarian, because it's tough to get a real vet to care for goats, which aren't worth as much as cows or horses.

But the home has become a neighborhood destination: not only for the events and the yoga, but gardeners will leave cut branches behind for the goats, and Glora and Steve admit to rooting through their neighbors' yard waste containers for something goat-tasty.  The goat-manured straw bedding makes an ideal addition to garden soil, and they're happy to share that with neighbors.

Rosejane -- who gets from upstairs to down on the elevator Zane Grey built for Dolly many years ago -- says that, after acquiring a great house in a state of dereliction, "it was such a labor of love to put into it .. it's been a good life living here -- I've loved it."