Reader Amy tells us:
We live on Skyview Drive near Crescent.  A fairly large black bear walked by our kitchen window, in the front yard, at around 6:45am [Thurs.].  It came within five feet of our window and walked into neighbor's yard.  My husband and dog checked our backyard and found evidence of the bear's passing through or perhaps staying the night?  Patio furniture cushions were down and my toddlers inflatable donkey jumper was all the way across the yard deflated with many teeth or claw marks on it.  I walked our street a couple hours later and saw many trash cans turned over and food on the ground.  We called animal control immediately after sighting, but never saw anyone come out.  I know we must learn to live with the bears, but it was our first sighting and in our front and back yard.  We have a toddler and a dog to worry about.  Got to be watchful.  Just wanted to share news with the neighbors.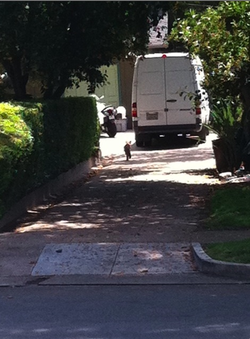 And from EveAnna on Mar Vista:
At noon, NOON!, a week ago on 7/7/2011 TWO coyotes were spotted heading into the backyard of 1992 Mar Vista Ave. See photo attached.

Today [July 14] at 7 AM ... a woman was crying and yelling at a coyote ... She had a towel and blanket scooping something up. A pet might have been killed by the coyote. We know no more about this event.