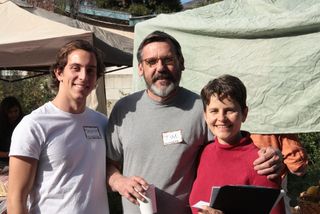 by TImothy Rutt
Altadenans love their outdoor markets -- so with perfect Altadena weather to help out, the Eat Well Market at Camp Mariposa drew an appreciative crowd of foodies Sunday afternoon.
Aimee Silver is all smiles with volunteers Stephen Efthyvoulos, left, and Tim Lance.
Organizer Aimee Silver said that there were 22 vendors at the members-only event, everything from honey to soups, and many vendors were very happy to sell out of their wares so quickly. Community organizations such as the Altadena Community Garden and Altadena Heritage also had tables at the event, held at the Girl Scout camp at Mariposa St. and Santa Rosa Avenue.
Honey vendors even brought their own live in-process honeycomb to the market.
Musician/singer Michael Garrison entertained the market fans.
Silver said that, based on the success of Sunday's event, there will be more, although she wasn't ready to set a date for the next one.  To find out how to become a member, go to eatwellmarket.com/guest-list