by Timothy Rutt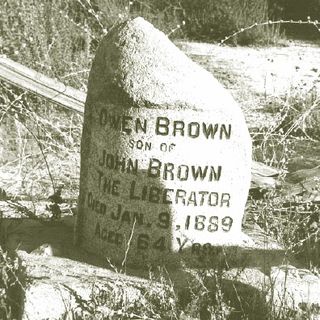 After going missing a decade ago, the grave marker for Owen Brown, son of the abolitionist John Brown, has been recovered.
According to Paul Ayers of Save The Altadena Trails (STAT), the marker was found yesterday by local resident Ian White and his son, who were hiking in an area near the Meadows, not too far from where Brown is buried.  Ayers said that he was contacted by White and "we got a crew together and moved it" to a secure location.
Ayers said that the area where the stone was found is fairly well-hiked, so speculation is that the stone was dumped there recently.  "It's been missing since 2002, and suddenly shows up yesterday," Ayers said.
Beyond that, Ayers will not say, as he says several legal questions emerge with the reappearance of the stone, including: whose property is it?  Who has the legal right to dispose of it? and can it be replaced on the gravesite with any assurance it will stay there?
Owen Brown, who participated with his father in the raid on Harper's Ferry in 1859, died in Pasadena in 1889.  His funeral attracted a reported 2,000 mourners, roughly equivalent to the population of Pasadena at the time.  He was buried in Little Round Top, near what is now the Meadows.  The marker was erected ten years later.
Little Round Top and some adjoining property was purchased in 2002 by Michael Cichy, who reportedly tried to impede access to that section of the historic El Prieto Fire Road that ran across his land and led to the gravesite.  The marker disappeared sometime thereafter -- there are conflicting reports of it disappearing in either 2002 or 2004.  STAT brought legal action to restore access to the fire road and Little Round Top, which was granted in 2005.
In an email, Ayers says "It is STAT's intention to take all necessary legal and logistical steps necessary to restore the grave stone to its rightful place marking Owen Brown's grave at the top of Little Round Top.  We will keep you informed of our progress."

STAT is also asking for donations to restore the gravestone.  Ayers notes that donations are not tax-deductible. Please send donations to:

SAVE THE ALTADENA TRAILS
C/O Paul Ayers, Esq.
ZINDER & KOCH
700 N. Brand Blvd., Ste. 400
Glendale, CA 91203