by Timothy Rutt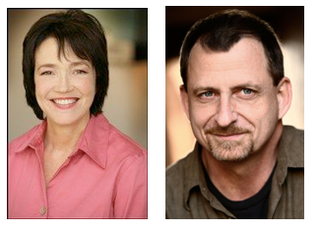 The Altadena Library's modernist sunken reading room will turn into a stage as The Moveable Theatre Company performs "Later Life," a play by A. R. Gurney ("Love Letters")  as a benefit for the Altadena Friends of the Library on Sun., Oct. 21.
The production, starring Debra Lee and John Balma, will be in a matinee and evening performance at the Altadena Main Library, 600 E. Mariposa St. 
A bittersweet comedy, "Later Life" will be The Moveable Theatre Company's theatrical production for this fall. Not community theater, The Moveable Theatre Company (TMTC) allows nonprofits the opportunity to use a play like "Later Life" to be a fundraiser by selling tickets and/or promoting their memberships. TMTC uses an enthusiastic volunteer corps of well-seasoned professional actors from theater, movies and TV. This theater company has no theater facility. The company performs where the patrons want it done.
In this case, the performance space will be the library's reading room.  "Being portable forces you to get creative," said Holly Witham, TMTC's founder and production director. "We have to accommodate any grandiose ideas for production that we have. This means improvising, fitting, moving and getting very creative – often in a few minutes – to make it work in the space and parameters that exist. …Since we are moving anyway, why not make the space a character in the play. By doing the shows in appropriate spaces, the space coordinates and becomes part of the experience," Witham said. 
"Critics loved this play by A. R. Gurney when it premiered in New York a number of years ago," said Nicholas Hosking, founder and artistic director of The Moveable Theatre Company. "This play is funny and poignant, as it pits two vastly different people opposite each other at a party. A romantic spark is rekindled between the man and the woman who haven't seen each other in about 30 years. Other free-spirited guests at the party rally behind the couple and remind them of the infinite possibilities that life holds, if they choose to pursue them." Hoskings summarized.
For tickets and more info: www.altadenalibrary.org or www.moveabletheatrecompany.org. Tickets will be $10 for the 2 PM performance and $20 for the 5:30 PM.  The evening performance will include a "meet and greet" with the actors plus a wine and cheese event. Tickets may be purchased at the main library.
Organized in 2009, The Moveable Theatre Company is a 501 (c) (3) nonprofit corporation through its fiscal receiver, The Pasadena Shakespeare Company. Their mission is to take quality theatrical performances to audiences throughout Los Angeles, while using the performances to raise money for worthy charitable causes. The Company is a volunteer group of like-mindedactors, directors, producers and writers who share a love of theater and a desire to share enriching theatrical experiences with audiences throughout the Los Angeles area. They present creative, innovative experiences while performing in spaces not normally thought to be "stages" and to large or small audiences as space permits. Visit www.moveabletheatrecompany.org.