Leslie Lowes contributes this video of Endeavour flying over the Chaney Trail neighborhood.
by TImothy Rutt
It was an exciting day in Altadena and vicinity as Space Shuttle Endeavour was ready for its close-up this morning.  Endeavour took a final bow, flying over points in Northern and Southern California before landing at LAX to be prepared for its future as a California Science Center exhibit.  It swept the local area starting at about 11:30 this morning, and by the look of pictures and videos we've received, it didn't disappoint.  More pictures after the jump.
From a perch on his cousin Susie's deck in La Cańada-Flintridge, Skywatcher Chris Considine takes some breathtaking shots following Endeavour's flyover of JPL.
Not to be outdone, Bill Westphal contributes pictures of the shuttle over JPL, Mt. Harvard, and Mt. Wilson.
Deb Halberstadt caught these from around the Devil's Gate Dam area (that thing came in LOW!)
 Salina Curtis got some good shots of the chase planes.  "Right over my house...so amazing!" she writes.
 Bo Astrup got some amazingly clear shots of the shuttle atop its carrier.  Note the rear cowling, which covers the nozzles of the rocket engines.
Jon Miller gives us the underview from Braeburn Road (see the rest of his pictures here).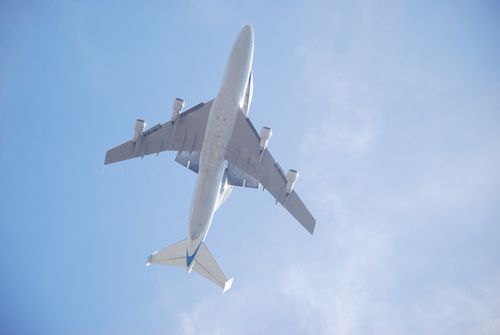 Bob Mann gets a good shot as it flies right over his house on Alta Vista.
Jane Szabo captures other shutterbugs taking their shot as Endeavour flies over.
UPDATE:  Jane emails us with more info:
This is on Windsor, just east of JPL - the road side parking lot where all the cyclists park on the weekend.
It was an absolute mob scene down there. Cars had parked poorly on the side of the rode, emergency vehicles were struggling to get in - I think many people had been there for hours in the 100 degree heat - paramedics were wheeling people away, I suspect from heat stroke.
By the time we left, police cars were blocking the road ways, cars had just stopped in the middle of the road as they could not move at that point. I have never seen anything like it around here.
I think the scene was more amazing than the plane!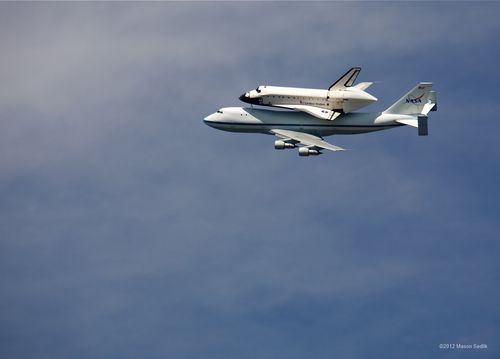 Mason Sedlik's picture'd make a good computer wallpaper -- clear and gorgeous shot!
Mason's dad Jeff Sedlik goes old-school B&W.
We were in Sacramento most of the day, and missed Endeavour's visit to our hometown -- altho' we did see it from the plane as we flew to our destination.  Even though it was 20 miles away, it was still thrilling!
Pilot and Altadenablog reader David Werntz writes about chasing the shuttle in his private plane.  Werntz took this aerial picture of Endeavour flying over La Vina.
And finally:  Greg Garner managed to get this picture of Endeavour flying away ... and a startled hawk!