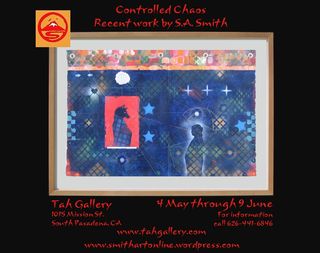 Recent work by Altadena artist S.A. Smith is on display at two local galleries in May.
Tah Gallery, 1015 Mission Street in South Pasadena, will display his work through June 9.  For information, the gallery website is www.tahgallery.com.
His  constructed box "Transformation" is included in the exhibition "Changes," a Pasadena Society of Artists show at the Pasadena Public Library Main Branch during the month of May.
Smith was born in Japan but has lived in Altadena since he was a year old. His recent work reflects influences from both Asia and the Americas – a fusion of cultures. He is a graduate of Pasadena schools and received a BA from Occidental College, where his mentor was Robert Hansen.