by Timothy Rutt
After a year of his new restaurant hanging in limbo thanks to county rules, AltaEats's chef and co-owner Paul Ragan was so anxious to get going that, when he finally got approval to open, he went ahead and did it, even though he didn't yet have a sign on the building.
And almost two months later, there's still no sign, but the customers are coming, anyway.
Andt that's OK, he said -- some customers bring out-of-guests, and give them the impression that the Altadena/Pasadena border's new restaurant is a secret known only to the locals.
But if it's a secret, it won't be much longer:  after spending a year in county permitting and financing hell, Ragan, who opened his restaurant in March, has been doing a steady business, sign or no.  A recent glowing review in LA Weekly is bringing more attention to what some people say Altadena's vibrant food culture really needs -- an interesting, destination restaurant.
From the world to the neighborhood
"it's food that I like to eat," Ragan says, and he's got the background and chops to make it food you'd like to eat, too.  Ragan was trained in culinary school in New York, where he met his wife, AltaEat's co-owner, Angela Visca.  His career has included a stint as executive chef at the now-closed Derek's Bistro in Pasadena, and he was one of the team that launched Revolution Foods in the LA Unified School District, to improve school meals.  He was also a private chef for various clients.
His experience also includes a Mediterranean sensibility: he was a private chef for a client who would take him to Portugal every August to cook in their summer home, and he and Visca ran a small restaurant for five years in Madrid.
That restaurant was half the size of his current one, Ragan said -- big enough to squeeze out a living, but just that.  
Ragan and his family (they have a daughter) moved to Altadena two years ago.  He was looking for a location for his own restaurant, and found one right in the neighborhood, at 1860 N. Allen Avenue.  The building, which lived an earlier life as a restaurant named Jack's Casbah, was being used by a catering business and the building was for sale.
Part of the year-long delay in opening was "a bit of my inexperience of how to go about it," Ragan admits.  "Find the right people and funding."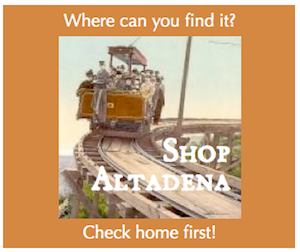 Top-flight staff
Among the right people is his sous chef, John Michael Munekiyo.  'My sous chef apprenticed at Derek's, and he runs my kitchen -- he's a rock star, he's so solid. It took me a year to open -- he's been champing at the bit to put fire to the pan."
The wait staff is also top-notch, Ragan said.  He admits poaching some from other restaurants.  "I have a lot of expectations to what I want my cook to do, and my wait staff.  My staff is amazing -- I have a fantastic team with me in front of the house and back of the house."
His meat supplier generally deals in smaller, quality lots, which suits his cooking fine.  He also haunts the farmers' markets in Pasadena, South Pasadena, and Altadena, looking for something good.
So if AltaEats is food he likes to eat -- what does he like to eat?  "I like to eat everything from a simple noodle and broth to a pad thai," he says.  "I love a good burger.  I love a good steak.  I like to try different things, from simple, basic street food to exotic dishes."
Bring some friends, because the food at AltaEats is meant to be shared.  There's a menu, but ingredients may change due to availability of ingredients (one week, it was duck eggs).  There are also daily blackboard specials.
Ragan also offers a "Sunday Roastie," where you can order a meal for four people, more or less, for $40 -- order by 1 PM, and it's ready to pick up by 5.  Last Sunday is was lamb or chicken tagine, toasted cous cous, chickpeas and veggies, with two loaves of bread that are baked in the restaurant's own oven.
The menu and more information is available at the AltaEats website.  AltaEats is open from 5:30 PM to "ten-ish" (closed Tuesdays).  You can make reservations online reservations@altaeats.com or call 626-794-1162.  If you can't plan that far ahead, stop by and see if there's room at the shared neighborhood table -- recommended, as you can look into the kitchen and see how they do it right.
AltaEats
1860 N. Allen Avenue, Pasadena