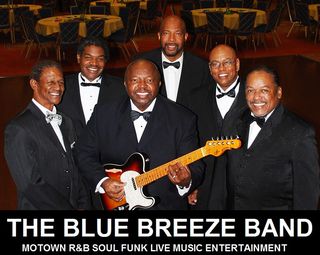 The return of the multi-talented group, Blue Breeze Band, will lull you into a trance with the sounds of Motown, R&B, Soul, & Funk music. You will get your mojo working with the harmonious tales of the Blues and enjoy the tasteful sounds of Jazz.
The Blue Breeze Band was formed in the late 90's and is comprised of talented musicians who have come together in order to forge a relationship with you, their listeners, through 60's, 70's, 80's & 90's heart and soul dance music, blue notes, and call and response melodic improvisation.
Thus far, Blue Breeze has acquired an impressive repertoire of performances for audiences from different walks of life from all over the world. To name a few, they have performed for former President Bill Clinton, the United States Armed Services in Okinawa, Japan, the Toyota Grand Prix of Long Beach and have headlined festivals throughout southern California. In addition, they have appeared as musicians in the Warner Brothers' feature film Why Do Fools Fall in Love- (The Frankie Lyman Story).
At the core of the Blue Breeze Band is a six-piece multi-talented group featuring the following artists:
Harold Wherry: Electric guitar and nylon string acoustic guitar
Nolan "Doc" Semien: Lead Vocals
Richard Moorings: Keyboards, Vocals and Trombone
Buster"Harrell: Drums and Vocals
Tim Anderson: Tenor Saxophone and Vocals
Darryl Bomar:; 6-String Electric Basses and Vocals
The Sheriff Support Group of Altadena's summer concert series starts at 7 PM on Saturday, July 20,  at Farnsworth Park Amphitheater, corner of Lake Avenue and Mt. Curve Drive.  Come early and bring a picnic or enjoy food provided by El Patron Mexican Restaurant, or get a box lunch from the Park Bench Grill ahead of time.  Beer and wine sales by the Altadena Rotary Club, with consultation from the Altadena Ale & Wine House.  Green room refreshments provided by Webster's Fine Stationers.
The summer concert series is sponsored by Warner Bros.; Los Angeles County Board of Supervisors, Michael D. Antonovich; MonteCedro; Rotary Club of Altadena; Athens Services; Georgia Rutherford in memory of Don Rutherford;  Toyota of Pasadena; The Printworks; All American Audio Visual; the Altadena Sheriff's Station; El Patron Mexican Restaurant; and Altadenablog.