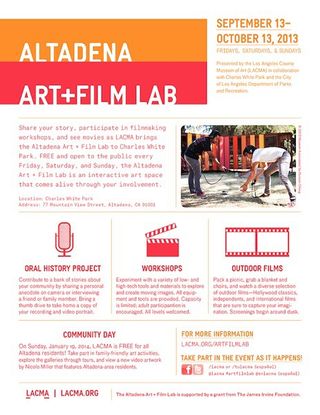 by Timothy Rutt
The Los Angeles County Museum of Art (LACMA) opens the  Altadena Art + Film Lab at Charles White Park for five weeks (Sept. 13 through Oct. 13).  
The Art + Film Lab offers free art and film programming, as well as an interactive space to learn and experiment with art and filmmaking processes through free hands-on workshops, weekly outdoor filmscreenings, and the gathering of oral histories from community members. 
On Friday, September 13, 6-10, please join the opening night party which includes an evening of live music by jazz quartet Louis Van Taylor Band and a special outdoor screening of Le Havre by Aki Kaurismäki. Additionally, Altadena-based artist and teacher Ian White, son of artist Charles White, will be present on the opening night to introduce the film.
Learn more about the LACMA9 Art + Film Lab initiative at www.lacma.org/artfilmlab.