by TImothy Rutt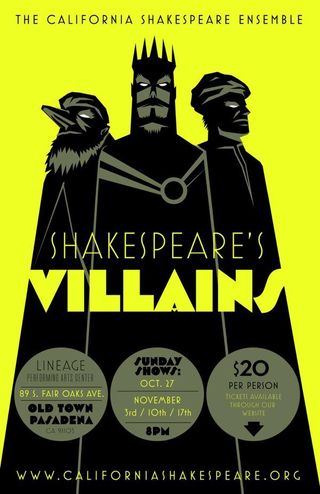 The California Shakespeare Ensemble, which was in residence at Farnsworth Park this summer with "Shakespeare's LOVERS," is back with a look at "Shakespeare's VILLAINS" in Old Town Pasadena:
Imagine if Shakespeare's best villains were taken out of their respective plays, reassembled Frankenstein-style, and finally got to be the focus of their own stories. The California Shakespeare Ensemble will do just that in Shakespeare's VILLAINS as they weave three of the Bard's finest antagonists into one engaging 90-minute show, using only Shakespeare's original words.

The show follows three of Shakespeare's villains -- Shylock (Merchant of Venice), Macbeth (Macbeth), and Tybalt (Romeo and Juliet)--using Shakespeare's original words and their own separate stories, but with a new adaptation and edit by CSE Artistic Director Brian Elerding.The talented cast features veterans of stage and screen; some notables are: Samantha Whittaker ("Ophelia" from Trevor Nunn's Hamlet at the Old Vic in London), Samantha Sloyan (winner of LA Drama Critics Circle and LA Weekly awards, recurring on ABC's Scandal), Fred Cross (The Joe Schmo Show, and Second City alum), Alex Weed (Pretty Little Liars, CSI: NY, Criminal Minds). The show runs approximately 90 minutes. Directed by Brian Elerding.
"Shakespere's VILLAINS" will be performed at the Lineage Performing Arts Cener, 89 South Fair Oaks Avenue, Pasadena.  Shows start at 8 PM  on four Sundays (Oct. 27, Nov. 3, Nov. 10, Nov. 17).  Tickets are $20 (or $35 with a limited edition of the published script with admission). Tickets can be purchased at www.californiashakespeare.org or through BrownPaperTickets.com. Doors open at 7:30 for pre-show drinks, show at 8pm
Due to stage violence and some literary innuendo and double entendre, the ensemble recommends the show for adults and teens. There is no nudity, but the  show is designed for children 12 years of age and older