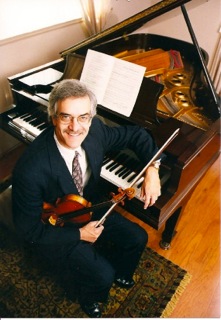 Crown City Symphony, conducted by Marvin Neumann, presents two free concert: Saturday, Nov. 16, 2 PM at the Pasadena Christian Church, 789 N. Altadena Dr.;  and 2 PM, Sunday, Nov. 17, at the First Baptist Church, 75 N. Marengo, Pasadena.
Paul Stein, L.A. Philharmonic violinist, is soloist.  Selections are:
Egmont Overture
Beethoven Violin Concerto in C,
Haydn Symphony #31,
Mozart, The Paris
A 30 year member of the Los Angeles Philharmonic, Paul Stein has brought his musical experience into many educational and chamber music venues.  He created the Chamber Music Express ensemble in 1985 to introduce classical music to audiences at schools and libraries.  His stories for those programs include Galileo's Metronome, The Magical, Musical Mini-Mall, and The Voyage of the Viola.  Mr. Stein is the Artistic Director of the Classical Kaleidoscope chamber music series at the Arcadia Library, which will start its seventh season in January.  It has presented music from many lands, including China and Africa.  He was also the director of the chamber music series for five years at the Pasadena Jewish Temple and Center.
He has been a soloist with the Los Angeles Philharmonic, Glendale and Pasadena Community Orchestras, and the Rio Hondo Symphony.  He teaches violin and viola at his home studio, Pasadena City College and Glendale College. He has also been on the faculty at the University of La Verne.  His articles about the relationship between music and the mind have been featured in Strings Magazine, the American String Teacher and the California Music Journal.   His hobbies include bridge, bird watching and aquarium viewing, and he lives with his wife in Monrovia.  Visit his web site at www.chambermusicexpress.com.