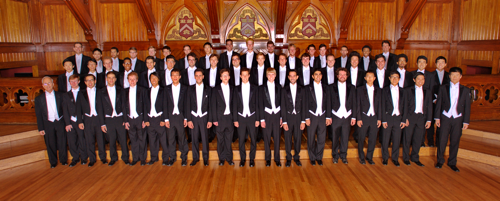 The Los Angeles Children's Chorus (LACC) begins the New Year with a bang when its Young Men's Ensemble (YME), conducted by Dr. Steven Kronauer, is featured in a joint performance with the acclaimed Harvard Glee Club, America's oldest collegiate choir, under the director of Andrew Clark, at Altadena Community Church on Friday, January 17, 2014, 7:30 PM.  The choirs perform individually and jointly in a concert presented by the Pasadena Master Chorale.

The Harvard Glee Club, widely considered to be the top collegiate men's choir in America, has twice performed with the Los Angeles Philharmonic at the Hollywood Bowl, appeared at the Vatican under the baton of alumnus Leonard Bernstein, and has sung with the New York Philharmonic, the Boston Symphony and the Netherlands Chamber Orchestra, among other ensembles.  In addition to Bernstein, the Harvard Glee Club, founded in 1858, counts many prominent Americans among the ranks of its alumni, including composers Virgil Thomson, Irving Fine, John Harbison and Elliott Carter – a two-time Pulitzer Prize-winner.  Non-musical alumni include Theodore Roosevelt; Franklin Roosevelt; and former Supreme Court Justice Harry Blackmun.

LACC's Young Men's Ensemble, one of only a few in the country to serve young male vocalists with changing voices, is designed for boys who wish to pursue singing and the choral arts throughout middle and high school. It offers quality vocal and choral training along with essential tools needed to bridge the gap between treble and young men's choral singing.   Established in 2009, YME features a specially tailored musicianship course and individualized vocal coaching sessions that adhere to LACC's exceptionally high standards and rigor.  Among numerous highlights, YME has toured to Germany, Austria and Italy and performed with the esteemed University of Michigan Men's Glee Club.

For tickets ($20) and information, please call (626) 793-4231 or visit www.pasadenamasterchorale.org.  The Altadena Community Church is located at 943 E. Altadena Drive, Altadena, CA 91001.