by Timothy Rutt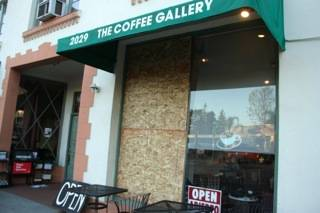 A former Altadena town councilman's corporation is collecting funds to repair the Coffee Gallery's broken window, even as the owner of the business is working with her landlord and insurance company to repair the vandalism.
One of the front windows at the Coffee Gallery,  2029 N. Lake Avenue, was reportedly broken by a man with a hammer as the business was opening Sunday, Dec. 29.  The man also reportedly shouted a racial ephithet as he ran from the scene.  
Coffee Gallery owner Julie Sandoval said in an email that "Right now I have no idea how much the CG needs to cover the cost. I paid to have it boarded up and will hopefully work out something with the landlord. I am more upset and saddened by the words that were said by the person throwing the hammer."  Sandoval wrote that she has paid $458 for the board-up, and was going to get estimates and see what the landlord wanted to do after the New Year's holiday.
Word went out later that day that the Altadena Community Corporation, a "domestic nonprofit," was accepting donations to help defray the cost of the damage and that such donations were tax deductible.  The address given for the corporation is a mail drop at Webster's Fine Stationers, and a check of the California Secretary of State's office lists the corporation as founded in 2012 but does not list any officers.
Steven S. Lamb, a former town councilman who most recently ran for a seat on the Altadena Library board of trustees, said in an email that he founded the corporation as a 501(c)4 to assist Altadena businesses.  The corporation to date has had no activity, but Lamb wrote that he offered to use the corporation as a pass-thru, to collect funds for the window repair.  
Lamb wrote that the corporation currently had no bank account.  "We will be opening that on 2 Jan 2014. We hadn't opened an account because we were going on a long range plan and didn't need one yet."
Lamb said that offering to collect funds for the repair altered his timetable for the corporation:  "We will of course be filing quarterly taxes since we will be collecting donations. I will be paying for that out of my own pocket."  Lamb said he did not yet have $5,000 to file for federal tax exemption -- that was scheduled for the third quarter of 2014 -- so any tax deduction would be for the state of California only.
Sandoval said that she was aware of Lamb's fundraising effort.
Donations are being accepted at the Altadena Community Corporation, 2450 N. Lake Ave.,  Suite 327 Altadena CA 91001.  Put in the memo "Coffee Gallery crisis."